At its last meeting, the Management Board of Belupo rendered a decision to establish a Research Advisory Committee (RAC). The Research Advisory Committee is an advisory body comprising renowned researchers and experts, whose areas of interest coincide with our company's strategic therapeutic areas. The primary purpose of this Committee is to streamline Belupo's efforts intended to renew Belupo's product portfolio even more precisely, while at the same time providing patients with better access to new and improved therapies and new conceptual projects based on strong scientific logic, thus contributing to Belupo's development objectives.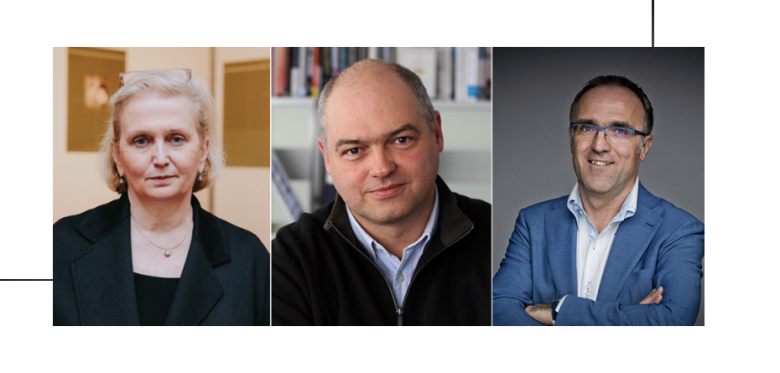 Members of Belupo's Research Advisory Committee
Prof. Branka Marinović, MD, PhD, is a permanently elected Full Professor of Dermatovenerology at the School of Medicine of the University of Zagreb and Head of the Dermatovenerology Clinic of the University Hospital Center Zagreb. Her specific areas of scientific and professional interest include autoimmune skin diseases, in particular autoimmune bullous dermatoses. She has published over 120 papers in indexed journals that have been cited over 4000 times, with an h-index of 30. She currently acts as President of the Croatian Dermatovenerology Society of the Croatian Physicians Association and President-Elect of the European Academy of Dermatology and Venerology (EADV).
Prof. Radan Spaventi, MD, PhD, is a cofounder of and partner at the consultancy firm Triadelta partneri d.o.o., Zagreb, Croatia. Prof. Radan Spaventi, MD, PhD, is a physician and researcher who has gained extensive international experience in the biotech and pharmaceutical industries. Before establishing Triadelta partneri, he had been Senior Vice President and executive team member at Galapagos Group and Chairman of the Management Board of Galapagos Research Center, Zagreb. Before joining Galapagos, Dr. Spaventi had acted as Vice President of the multinational pharmaceutical company GlaxoSmithKline, Head of the Center of Excellence for the Discovery of Macrolides and CEO of GlaxoSmithKline Research Centre Zagreb. These positions were preceded by his service at PLIVA, Zagreb, where he acted as a Management Board Member, Chief R&D Officer and Director of PLIVA's Research Institute. At the time, he also acted as Senior Vice President and CSO of PLIVA's U.S. subsidiary Odyssey Pharmaceuticals. Before starting his career in the pharmaceutical industry, Dr. Spaventi had acted as Head of the Molecular Pathology Laboratory of the Molecular Medicine Department at Ruđer Bošković Institute in Zagreb. During his academic career, he attended professional training courses abroad several times. He was a postdoctoral candidate at Dana-Farber Cancer Institute and Harvard Medical School, Boston, USA, and received scholarships from institutions such as the Imperial Cancer Research Fund, London, UK and Universität Krankenhaus Eppendorf, Hamburg, Germany. In 2004, he was appointed Associate Professor at the School of Medicine of the University of Zagreb and, in 2010, Full Professor at the Biotechnology Department of the University of Rijeka. Prof. Spaventi has authored more than 50 research papers published in international journals, mainly on the subject of molecular biology of cancer, inflammations and infections, and has authored/edited four textbooks. He has received an award for his contribution of particular and permanent significance to the Republic of Croatia in the field of medical science from the Croatian Academy of Sciences and Arts.
Aleksandar Danilovski, PhD, graduated in 1997 from the Faculty of Science of the University of Zagreb, Chemistry Department, specializing in engineering, and obtained his doctoral degree at the same Faculty in 2001 in cooperation with the Biochemistry Department of the University of Cambridge, UK. He was also a cofounder of a startup (Pharmaero, Denmark), which has invented and is developing an innovative and patented inhalation platform for local release of drugs in the lungs, and is a member of the Supervisory Boards or Research Advisory Committees at several innovative companies and an investment fund in Europe, USA and India. In addition to his global responsibilities, in early 2011 he established and managed until late 2022 the research company XELLIA d.o.o. as a global center of excellence in Croatia, which presently employs over 150 researchers. Among his other duties, he has led R&D activities and launches of over 100 different active substances and over 200 different finished pharmaceutical products in global markets (USA and EU). At the same time, he has published research papers, applied for patents, and held scientific, business and motivational lectures at local and international conventions.