Bisnode AB Certificate is awarded to the best European companies that achieve the highest credit rating of AAA, for at least five years in a row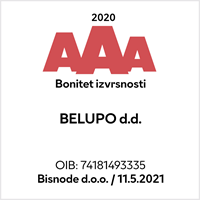 The international group Bisnode AB, the largest European provider of business and credit information based in Stockholm, has recently awarded Belupo the Certificate of Platinum Credit Excellence. It is a prestigious certificate that Bisnode AB awards to the best companies that achieve the highest grade AAA, for at least five years in a row.
"Thanks to all employees, our company has once again proven excellence, business quality, competitiveness and credibility in all aspects of business, ranking at the very top of creditworthiness and the best European companies," said Belupo CEO Hrvoje Kolarić, adding that the AAA credit rating of our the company clearly shows current and future business partners, customers and suppliers that it has two rare business characteristics - reliability and credibility.
The certificate is recognized and accepted in Europe. Throughout the next year, it proves business success and stability of Belupo, proves our business excellence, quality and reliability thanks to good payment discipline.